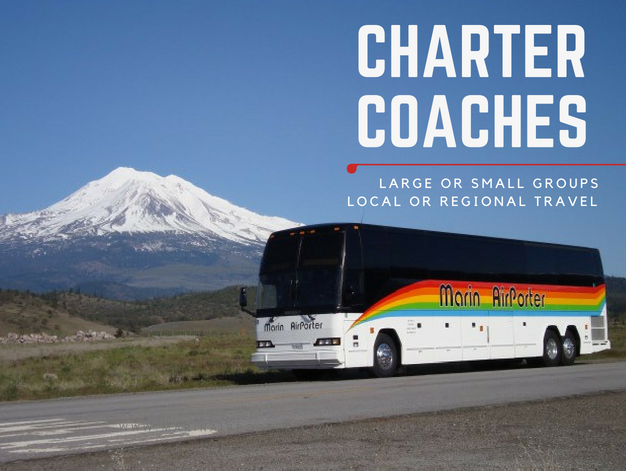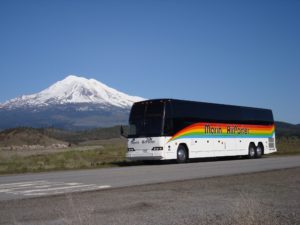 Marin Charter & Tours offers professional, safe, reliable transportation for every need. We have a fleet of modern Prevost motorcoaches for corporate groups, private events, school outings and much more. We are here to provide personal, customized service for local and regional travel, for groups large and small. Please contact us using the email form below, or feel free to call our office at 415-256-8830 for pricing and availability. If you've never chartered a bus before, or if you are a professional in the travel industry, we have the experience, equipment and personnel you need.
How much does it cost to charter a bus?
Prices are generally based on hours of service. Basic rates are below. Additional charges may apply depending on pickup location and total mileage for your trip.
56-passenger deluxe motorcoach
$740.00 for a 4-hour minimum
$140.00/hour for additional service over 4 hours.
What's included?
Prices include all taxes and fees, but do not include any tolls, parking, or entrance fees that may be incurred, and do not include gratuity. A pre-paid gratuity is generally added to most trips. Rate will depend on the nature of the service to be provided. Your charter coordinator will be happy to discuss this with you before preparing a contract.
Every trip is different, and we are happy to work with you to find the most economical solution to your transportation needs. Please feel free to call or write us for a personalized price quote.
What features do your buses have?
Our Charter coaches hold up to 56 passengers. All the buses have reclining seats, climate control, restroom, individual reading lights and audio/visual systems. Most of  our coaches also have individual 110 power outlets for small electronics. We do not currently offer WiFi.
We also have one 21-passenger mini-bus for local shuttle service. Call for pricing.
Can you carry school groups?
Yes! All of our buses and drivers are SPAB (School Pupil Activity Bus) certified to carry K-12 school groups. Our buses, maintenance facility, and records are inspected annually to maintain compliance with all CA Department of Transportation and Department of Education regulations.
What qualifications do your drivers have?
Our drivers are all experienced motorcoach operators. All of them undergo thorough background checks before hiring, periodic drug and alcohol screenings, and annual safety and driving retraining and recertification.
Can we charter a bus to go anywhere?
The buses are 45-feet long, so there are limits on where we can safely travel, but aside from that, we travel all over California and the western states.
Are your buses ADA accessible?
We have several buses in our fleet that can accommodate up to 2 wheelchairs on board, and have a lift that can be used to assist passengers who may have difficulty boarding by way of the stairs.
Do you allow food and drinks on the bus?
Certainly. We request an additional cleaning deposit, which will be refunded provided there is no damage or excess cleaning required.
Do you offer tours?
We currently do not offer any tours for individual participants, but if you have a group that would like to travel, we can assist you with lodging and destinations.
Will our sports team win if we hire you to take us to our game?
We absolutely guarantee that someone will win. Maybe tie.