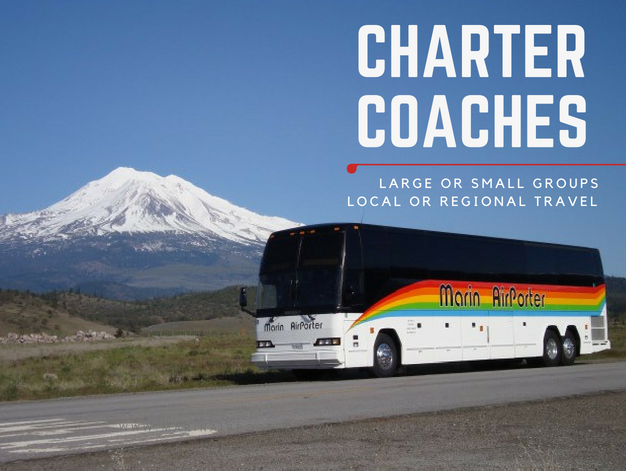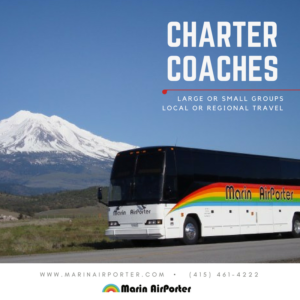 For over forty years, we've been here in Marin, helping people get where they need to go, and that's more than just getting folks to and from the airport.
With our Marin Airporter Charters, we help all kinds of people: kids, seniors, wedding guests, corporate clients and tour groups. We welcome this kind of opportunity because of the way that it contributes to the quality of people's lives.
The Kids Are All Right
Here's one special example: School Trips.
From elementary school kids going to the Marine Mammal Center and the Exploratorium, to high school athletes going to games all over the Bay Area, and students going to special screenings at the Mill Valley Film Festival, we provide safe and dependable transportation. We also work with the amazing Okizu Foundation, getting kids with cancer to a summer camp just for them.
Wherever the destination, whatever the event, we keep your children safe.
Keeping Seniors Mobile
We also help to keep your grandparents active and entertained. Another example of how Marin Airporter Charters serves our communities is the San Rafael Goldenaires senior citizens group who has been riding with us for decades-going to plays, boat rides, the zoo, baseball games, and yes, maybe even a casino for a variety of casino games. We can't say we blame them though, those slot machines sure are a lot of fun and everyone likes to earn a bit of extra money and it's even better when you win it! You can tell that the seniors have this wish as their charters are mostly filled with them talking about the best casino bonuses that they've just discovered online, and how they want to give them a go before reaching the casino. What a great way to start their trip! They can even get some practice in before they head off by going onto casino gaming websites such as kiss918 apk malaysia and prepare themselves.
Weddings & Parties
We can help you get your wedding guests safely back to their hotel after a night of celebrating. We are out at Pt. Reyes easing congestion during whale watching season, and we are down in Santa Clara with the Elks Club watching the 49ers play. We show visitors the beauty of our area while keeping their cars off our roads.
Note: One bus can take more than 50 cars off the road, easing traffic and reducing pollution and greenhouse gas emissions.
Let Us Help
When planning an event, often the last thing people think about is transportation. But when you need to bring fifty wedding guests to Rancho Nicasio or Old St. Hilary's Church, or when BioMarin or AutoDesk needs to get a few hundred employees to an offsite event, we are delighted to provide safe, reliable transportation. We handle most of the logistics, partly thanks to our excellent transportation management systems "what is a transportation management system?" you may ask? Simple, it means that we find the best route to take you from point A to B and easily communicate with our drivers if you have a last-minute change.
For over four decades, at Marin Airporter Charters, it has been our privilege to serve all of our customers, including local youngsters and senior citizens as well as private groups and corporate clients. We look forward to serving you. For more information and to contact us regarding our charter services, please click here to visit our Charters Page.