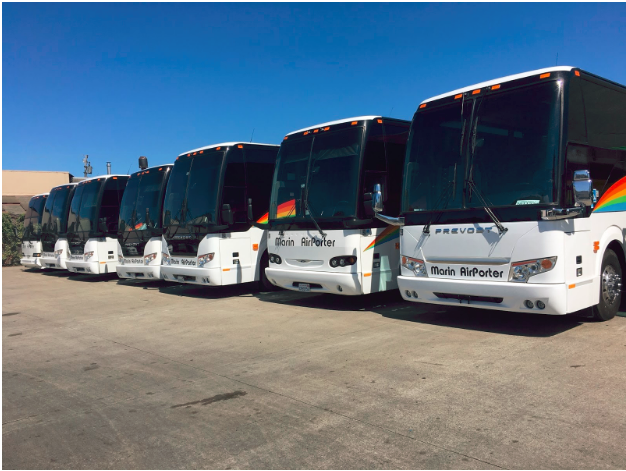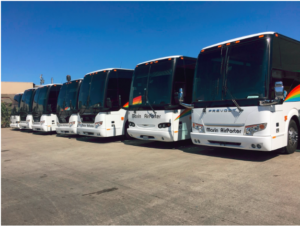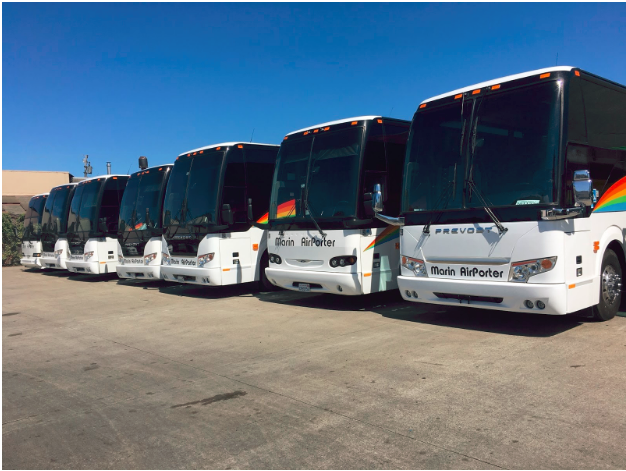 New buses are on the way! We're looking forward to taking delivery soon on two brand spanking new 2018 Prevost H3-45 motor coaches. They are currently in the paint shop getting their rainbows on, and will be in service as part of our Airporter fleet in just a few weeks. They are clean running buses that meet all the latest emissions standards for heavy duty diesel engines. Think your Prius is efficient? These buses will get around 300 passenger miles to the gallon when running full. And for everyone taking the bus to or from SFO (and not driving, or taxi-ing, or Ubering) that's another car off the road. So when you see the bus, think 20, or 30, or 50 cars off the road.
The new buses will have power ports to plug in your phones or your laptops (no USB ports, so bring a plug for a regular 110 V outlet). Please use your best judgment when bringing electrical appliances on board the bus.
Unfortunately we won't have Wi-Fi on the new buses, at least not yet. That is probably the number one request from passengers as an additional amenity, and we are looking into our options. The buses will however have all sorts of other modern features to make your ride as safe, smooth, and enjoyable as possible, including the latest in electronic engine monitoring and emissions controls.
There is no better, more efficient and environmentally-friendly way to get to or from SFO than taking the Marin Airporter.