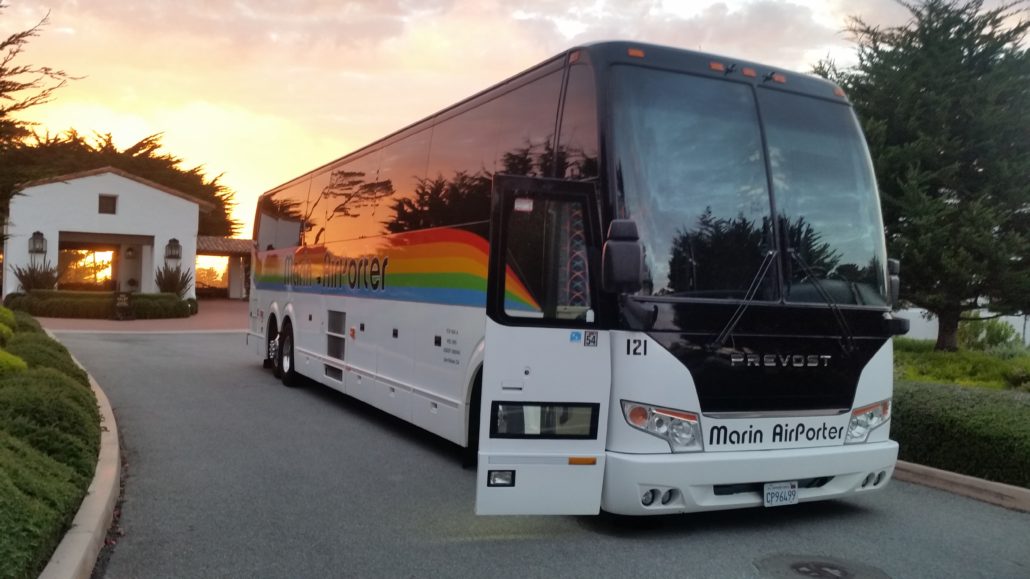 As with most things these days, the Marin Airporter is managing unprecedented changes.
The San Rafael Transit Center has been around long enough for most of us to feel familiar with the flow of buses, including the Airporter. What is new in the equation is the new SMART Train.
Farther south, the hub for Marin Airporter operations has moved from Larkspur Landing to Andersen Drive in San Rafael. For most riders, this means trying to remember that the buses now depart for the airport from this central hub at ten minutes before and twenty minutes after the hour, not on the hour and half hour as was the case when Larkspur Landing was the main hub.
Likewise, because the Larkspur Landing hub is gone, that location now has two roadside loading zones, one on either side of Sir Francis Drake Blvd. That means you have to plan parking more than previously since there is no longer any dedicated lot in Larkspur (although there is ample parking at our new Andersen Drive hub).
No one can blame the more and more frequent flooding of the Manzanita stop on the Airporter, but anyone who drives in that area is aware that much of the parking for that stop is unavailable during storms and at certain phases of the moon. You're kidding, right? I have to know what shape the moon is in to find a place to park? Yup. Sorry.
How Can Our New Website Help?
You may be wondering, how can a website redesign provide any relief for some of these changes? Well, why not check it out.
Instead of the old "one-page-fits all" PDF schedule (which is still available for those who prefer that sort of thing) each stop now has its own website page of information that's available via simple click on our user-friendly route map graphic courtesy of a tool like this map maker or via a drop-down menu. It was hoped that these new pages would have their own website color schemes in order to make navigation easier for travelers. However it is unsure if this idea would be in the final product. You can see the proposed website color schemes 2021 offer here.
Each of Marin Airporter stop website pages gives you quick access to information that was either difficult to find or unavailable on our old site. And, now, because the information is provided stop-by-stop, it's easy to find just the right information you need for your trip without your having to wade into the weeds of data about the other six stops. Any new website design can be intimidating at first, especially if a company is trying to build one of their own, luckily there are helpful videos such as https://www.youtube.com/watch?v=XGSU1A69HA0, that can provide a stronger background of assistance. We hope this new website will be useful to people.
When you click on the stop most convenient to you, a list of big blue buttons offers you the following choices: Pick Up Schedule, Buy Tickets, Map and Directions, Parking Info and Questions.
For example, click on the schedule for Central San Rafael and you find this:
Buses leave from the Central San Rafael Transit Center once an hour at 10 minutes after the hour, starting at 4:10 AM until 10:10 PM. The trip to SFO takes a minimum of 1 hour & 20 minutes, but may take longer depending on traffic conditions. Please allow plenty of time to travel. Traffic delays are common and should be expected.
Everything you need to know. How early? Departing how often? When? How long to the airport? Done and done.
The Map and Directions tab is great for travelers not familiar with Marin, and for those of us who get confused from time to time or need to use a different stop (because maybe we're taking the new SMART train to Central San Rafael for the first time). The text directions from all points are accompanied by a detailed bird's-eye view of the area.
Buy Your e-Ticket Before You Go
But wait! "Buy Tickets"? Marin Airporter has been a cash-only business for as long as most of us can remember. So, what's this about e-Ticket sales? It's time.
No more stopping at the ATM on your way to catch the bus! All you need to do is click "Tickets" on the left-hand menu, select the date you plan to travel, then click "Select," checkout and you're done.
Once you've purchased your ticket(s), as our new website explains:
"Tickets purchased online may be printed and given to the driver, or you can display the ticket on your phone."
Welcome to a new age of Marin Airporter convenience.
Other Goodies
If you have questions and needs beyond the usual, watch our Blog for updates on things like the pesky flooding at Manzanita, Mill Valley. Need to know if animals can ride our buses? Click the "FAQs" tab and save yourself the time of making a phone call or doing further online research. The answers to all of the most Frequently Asked Questions are there, just a click away.
Have another question? There's a "Contact" tab and we are happy to help.
Getting Out of the Car
We all know how bad traffic congestion can be in Marin as well as elsewhere in the Bay Area. Our riders are happy to leave the driving to someone else. Getting some additional time to work while in transit is another plus.
Now, thanks to our new website, all of this comfortable traveling ease is more accessible than ever.