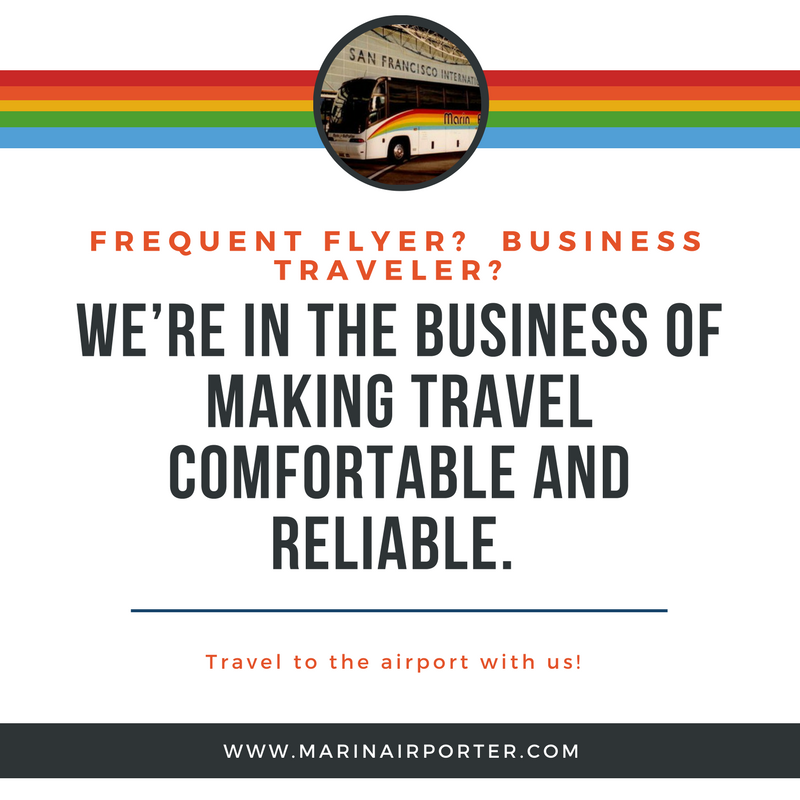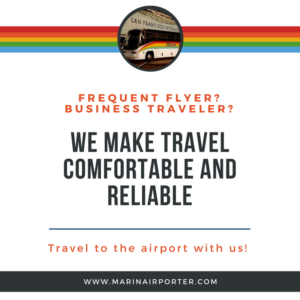 If you're a frequent business traveler, chances are, you think a lot about the quality of your travel experience. Besides simply making your flight on time-hopefully with some time to spare-your considerations may include minimum stress, comfort, and opportunities for productivity en route.
However, often times, the most unpredictable and stressful part of any journey is the trip to the airport. Living in the Bay Area, and particularly in Marin, traffic is a fact of life. Some days it is not so bad. Other days, drive time to the airport is difficult to determine. Then, there's parking at the airport. Will the lot be full? Will the shuttle get me to the gate on time? You know the drill. There can be doubts and delays around every turn. So many so, that you might even consider the convenience of a virtual office to be the only solution.
Travel Choices, Travel Choices
As we all know, getting behind the wheel yourself is an invitation to stress. We all want to travel in a way that lets us be at our best upon arrival.
Among your options, if you choose not to drive, is Uber or Lyft. If you're a single traveler, the cost of this kind of transportation to the airport will be several times greater than the bus. A taxi is worse, and you can't always depend on either to show up on time. An added benefit of not driving is that you can focus on reducing your stress levels as best you can. If your stress is consuming, you may need to discuss it with your doctor, with them referring you to a marijuana dispensary for a prescription if they feel like this is appropriate, otherwise, they will recommend other stress-reducing practices.
Then, there's the Marin Airporter. We serve seven different stops in Marin. Parking at our locations is now described in detail on our website. No guesswork!
And, now, for even less stress, you can now buy your ticket online, ahead of time.
And then, there is the comfort of the bus itself.
To the Airport in Comfort
As you take your seat, you immediately relax into spacious comfort. Our first class coaches offer the kind of space that allows you sit back and reflect, rest, or work.
The comfort of our buses may suggest to you the idea of getting a little more sleep. Or perhaps this is a great time to pull out that book and read. Or maybe you just want to enjoy the view of our beautiful Bay Area home that you can't appreciate when you're driving yourself. If you want to continue traveling in comfort, you can use this private jet charter cost estimator to see if a private plane is a possibility for you. This would mean you could go from relaxing on the bus to relaxing on a plane without being bothered by other noisy passengers.
And, because we use the bus lane, we make the best of any traffic condition.
Getting a Charge Out of Business Travel
On the other hand, you may have a meeting for which you can use this time to be better prepared. You switch on the overhead light and pull out that report you need to review or deliver. For most of us, that simply won't happen in a car.
Is the report on your laptop or tablet? Well then, you might be surprised to learn that Marin Airporter buses now have plug-in-power at most seats (currently about 70% of our buses have electrical outlets at every seat). Thanks to these buses, your mobile device won't be running on fumes when you reach your meeting. And, on the way home, you won't worry about running down the battery after a long day of travel. Plus, with something like this asus smart gesture download, you won't have to worry about plugging in a mouse, as your touchpad will be able to do all the scrolling and clicking instead!
You'll get home fully charged, and so will your devices.
Comfort. Cost. Reliability.
We're in the business of making your travel comfortable and reliable.
When your life sends you away from Marin to SFO and home again-whether it's for business or pleasure-Marin Airporter is a choice that makes stress-free sense. And we get you there and back at a more reasonable cost.
We invite you to charge up your devices and yourself by relaxing on the bus.
See you soon.