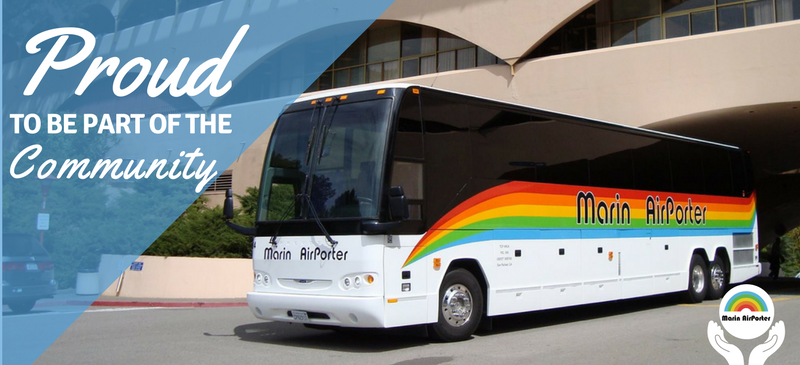 If you live in Marin near the 101 corridor, chances are you see our distinctive rainbow buses every day. When you do, you might think for a few seconds about a friend or business associate who has just been with you or soon will be. You might think about a recent or upcoming trip of your own. Probably, you think about travel and getting to the airport.
We are visible in that way.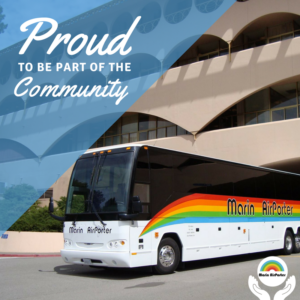 Now You Don't
But in other ways, you don't see us. If you've used Marin Airporter to get to Point Reyes Lighthouse to watch the whales or see the elephant seals, you know that we're not only about getting to the airport. We help you celebrate the wonders of our natural world in a responsible, environmentally sensitive way. If you've chartered one of our buses for a private event, you know we can help you that way, too.
Another Kind of Service
Another way in which we actively engage in the community, you may not see. Did you know that we support many local charities with discounts and donations? These include organizations for seniors like Hospice by The Bay, Whistlestop, and San Rafael Goldenaires. We support youth through the Big Brothers/Big Sisters program, Girl Scouts of Northern California, Beyond Differences, Sunny Hills, and The Okizu Foundation, which provides peer counseling, mentoring and recreational programs for children with cancer. People are often older when they have to deal with such things, and are looking for life insurance no medical questions policies to help their families during their treatment, but younger souls don't think about such things and so we wish to help them maintain their childhoods through what must be a harrowing time.
We address homelessness in our community by supporting San Rafael Downtown Streets Team. We contribute our resources to the arts through Marin Museum of Contemporary Art and the Marin Symphony. We support education through The Buck Institute for Education and California Film Institute –Education.
If you're not familiar with the good work that these organization do, take a moment to look them up. They are all worthy of your support.
Part of the Community
We want to be more than just a business, more than the bus that takes you to SFO, more than a visual backdrop in your day. For us, it's about people: our customers and our employees and all the lives that we touch in a variety of ways. We value our role in the community-being part of the fabric of life in Marin in more than just a functional way. We like to think that we represent good citizenship.
We are proud to be part of our Marin community. Next time you see our rainbow buses, please think of us that way too.