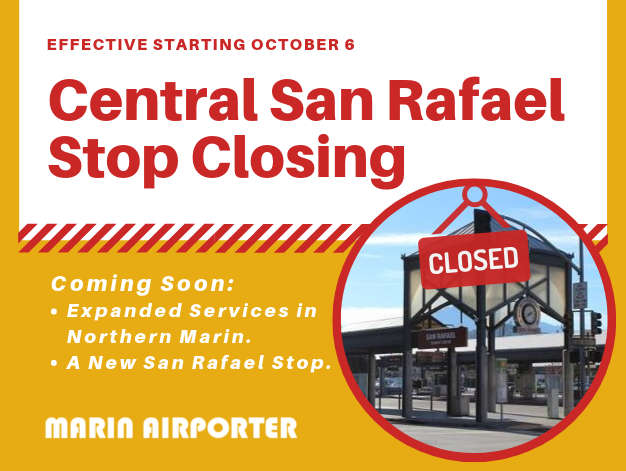 Important Announcement: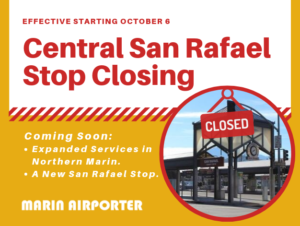 As you may be aware, there has been severe congestion around the Central San Rafael Transit Center resulting in delays for our Marin Airporter services and inconvenience for you, our passengers.
As a result and in order to make way for some new expanded services that are "coming soon," we are discontinuing service to and from the Central San Rafael Transit Center as of October 6, 2019.
For your convenience, the nearest alternative stop is the Marin Airporter Terminal at 1081 Andersen Drive in San Rafael. We recommend that stop because it includes far more convenient long term parking as well as Airporter bus services that leave for SFO EVERY HALF HOUR at ten minutes before the hour and twenty minutes after the hour throughout our service day.
In addition, we continue to provide a full service to and from SFO via ALL of our other Marin Airporter bus stops.
Other Good News on the Way!
We will soon be announcing expanded services to and from Northern Marin County as well as a new San Rafael stop. Stay tuned for further details and we will keep you all posted on our updated routes.
Please call us at (415) 461-4222 with any questions.
We continue to appreciate being at your most comfortable and environmentally-friendly airport transportation between Marin and SFO.