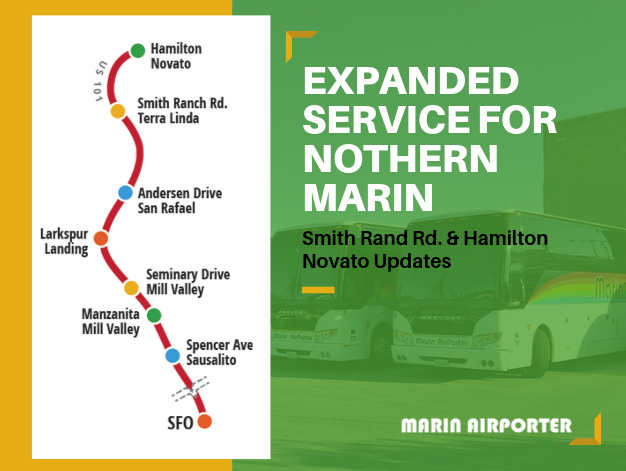 Good news! Marin Airporter service from Hamilton, Novato is now doubled from once every hour to once every half hour, and a brand new stop has opened at Smith Ranch Road/Terra Linda. The new stop will replace service at the Central San Rafael Transit Center, which has been discontinued.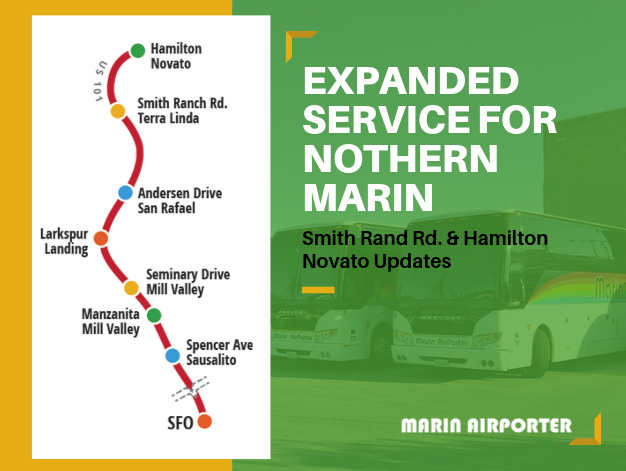 We are happy to report that thousands of Northern Marin County travelers will now find it easier to get to and from San Francisco International Airport (SFO) due to our expanded Northern Marin pick-up schedule.

We now have buses departing from Hamilton in Novato every 30 minutes and we have re-opened our customer waiting room and amenities at our Hamilton terminal. Apart from these, there are requests for better outdoor lighting near the terminal something similar to a large flagpole lighting. Hopefully, all of these amenities would help in the ease of travel within the airport.
In addition, we have added a new stop next to the Smith Ranch Road, just east of Highway 101 in Terra Linda, San Rafael. Riders from Terra Linda, Lucas Valley, Marinwood, and surrounding neighborhoods can now enjoy this more convenient pick-up location. And, like the entire Marin Airporter system, the new Smith Ranch Road Park & Ride stop will be serviced every 30 minutes.
Full service to-and-from SFO continues via all other Marin Airporter bus stops on existing schedules-apart from the Central San Rafael Transit Center where we have discontinued service due to heavy traffic congestion. 
Complete details of the schedule as well as the specifics of each stop's location are available on this website, MarinAirporter.com.