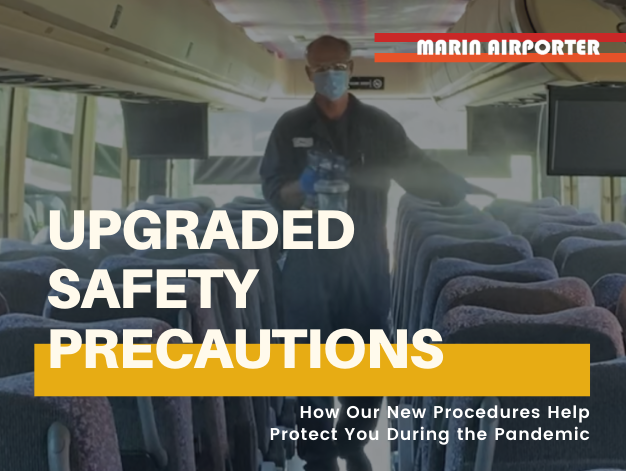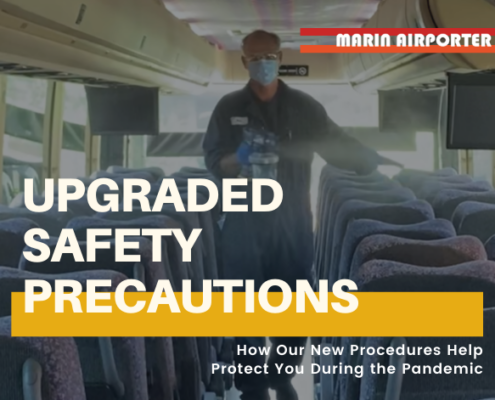 Upgraded Safety Precautions on the Marin Airporter
How Our New Procedures Help Protect You During the Pandemic
Throughout the COVID-19 outbreak, Marin Airporter has maintained its service for those for whom travel is essential.
Safety has always been our first priority. As we continue to operate throughout the pandemic, we do everything we can to minimize the risk for all travelers.
Because of the coronavirus, as detailed below, we have continually added new safety measures and upgraded our disinfection practices. Now, because these procedures are so thorough, we feel that we offer a travel environment that is much cleaner than less professionally maintained transportation services.
With restrictions around the country and around the world beginning to lift, people are starting to travel more, and we want our customers to know that we have the following important new safety-related measures in place:
– As part of our daily procedures, we perform a general disinfectant fogging, as well as specific disinfection of high-touch areas.
– We have ensured that all of our staff have access to gloves, masks, disinfectants, and hand-washing facilities.
– Per CDC guidelines, face masks are now optional but encouraged for your safety.
Our buses are currently running on an hourly schedule and we will maintain the hourly schedule until such time as passenger numbers warrant a more frequent service. You can find always find our complete schedule HERE. Please call us between 4:00 am and midnight, seven days a week, at (415) 461-4222, for further information.
Your safety will always be our highest priority; and, when the time is right for you to travel, we look forward to welcoming you on board. Please let us know if we can do anything to make your journey more comfortable and relaxing.